Nowadays, potentially business-crippling cyberattacks are happening everywhere. It's becoming increasingly important to protect your business from them—but the truth is, some business owners aren't quite sure how. That's why we came here to help you.
Founded in 2007, Capstone Works can empower your workforce by providing fast, reliable technical support through Managed IT Services. Our team strives to eliminate IT issues that may harm your businesses. We love seeing our clients succeed; as you grow your business, we grow as well.
With that being said, we are extremely delighted about our recent success and we can't wait to share it with all of you: Capstone Works was recognized by Clutch as one of the leading agencies in the cybersecurity industry in Texas for 2021!
Clutch is an established platform headquartered in the heart of Washington, DC, committed to helping small, mid-market, and enterprise businesses identify and connect with the service providers they need to achieve their goals. Each year, Clutch highlights the top B2B companies across different industries. Here's what Chuck, our CEO, had to say about this recognition:
"We at Capstone Works are proud to be recognized as a Clutch Leader. We will continue to deliver exceptional service and to set the standard for Friendly, Proactive, Worry-free Managed IT Support." -- Chuck Adams, CEO, Capstone Works, Inc.
On that note, we would like to extend appreciation and gratitude to our clients for supporting us throughout the years. Without them, this would not have been possible. Most importantly, to our clients who took the time to leave a review on our Clutch profile—we will treasure your valuable feedback and make it an inspiration to provide top-tier support and quality services. If you are a client and have not yet left a review, we'd love to help you do so!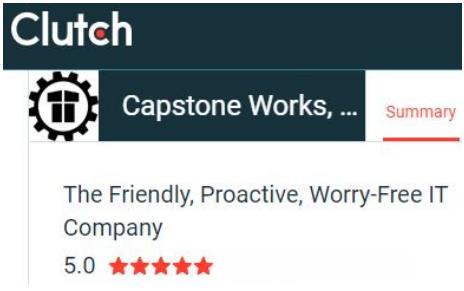 Contact us today and our team will connect you to the means to protect your business. Hurry up!